Experiences on sustainable travel
In this section you can read other people's experiences of traveling by land.
Read Annika's travelog below, when she traveled from North Macedonia back to Finland by land.
Read Ulla's experience of traveling overland to the Czech Republic and her tips here! (OPH, in finnish)
Here you can find Jalmar's story about how he traveled along the tracks to the student exchange (OPH, in finnish)
Annikas travelog: traveling by land from North Macedonia to Finland
"Hi, my name is Annika! I spent two months volunteering in Macedonia, at the Volunteer Center Skopje. Prior to leaving for my volunteer period in Skopje, I knew I wanted to make the return trip home by land. A trip through many countries requires planning, and a little more time, but can be a wonderful adventure. In this travelog, I will share my experiences from the trip and share some tips for planning the trip.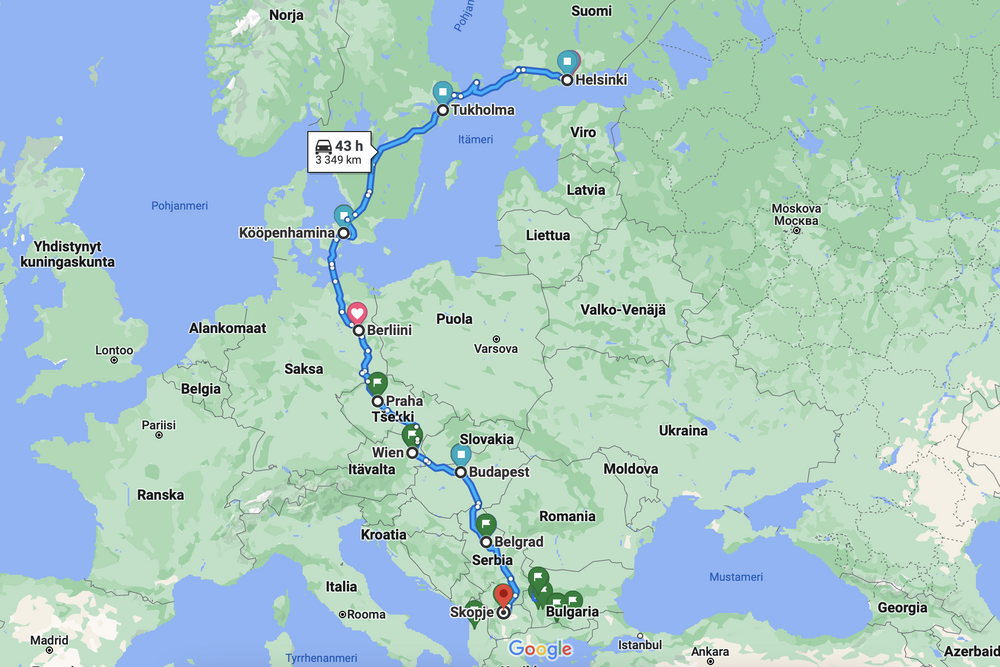 Itinerary: duration and planning of the trip
I traveled through a total of seven countries. I started the journey from Skopje by bus to Belgrade, from where I continued my journey to Budapest and from there to Vienna and Prague. From Prague, I continued via Berlin, Copenhagen and Stockholm and finally by ferry to Finland.
I traveled from one city to another mainly by bus. I was using Flixbus and RegionJet buses, and according to my experience, they are relatively comfortable and well-equipped, so even longer trips can be quite comfortable. It's especially nice if the bus is not very full and I can occupy a row of seats all to myself. The journey from Budapest to Vienna was quick, comfortable and even cheaper by train. The second train trip was from Copenhagen to Stockholm.
Prices vary a lot, but usually bus trips are very affordable. Even for short distances, trains are usually reasonably priced and even faster. So you should weigh the price-quality ratio when booking trips. I personally bought individual travel tickets, for example, instead of an interrail pass. I booked the trips mainly through Omio, where you can compare the prices of train, bus and ship tickets. Sometimes, however, it's worth browsing the train companies' own pages, for example, because the prices can be even cheaper.
The journeys between Budapest-Vienna-Prague-Berlin went quickly by train. The journey from Budapest to Vienna took 2.5 hours and from Vienna to Prague just under 5 hours. Berlin can be reached by bus from Prague in 4.5 hours. The longest distances were Skopje-Belgrade-Budapest. It took 7.5 hours to travel from Skopje to Belgrade and 6 hours from Belgrade to Budapest. You can get from Berlin to Copenhagen by bus in 8 hours. In Copenhagen I decided to take the train to Stockholm and the travel time was 5.5 hours. The only way to travel from Stockholm to Helsinki is by ship, which was the longest and most expensive single trip of the trip. The trip lasted a day and cost around 80 euros with a cabin.
Another option for the route would have been to continue from Budapest through Slovenia to Poland and through the Baltic States to Finland. However, it seemed more meaningful to do the route another season. By traveling through Vienna, I got to know cities that were previously unknown to me. During my own trip, the connections to Slovenia were also not to my liking, so the choice was easy. It is also easy to continue from Vienna to Warsaw and make the journey home via the east, if you wish.
Tips for overnight stays along the way
I expected  my trip home to be a couple of weeks, because I wanted to travel slowly. However, this practically meant staying in each destination for a maximum of two nights. At this time, however, there is plenty of time to rest and there is at least one whole day left for sightseeing. You can find really clean and comfortable places to spend a couple of nights in the city center and just outside it. I stayed in hostels whose prices ranged from 16 to 25 euros per night. The prices are not the cheapest, but considering the comfort of hostels, they seemed reasonable. You should make sure that the hostel has a kitchen to prepare your own meals if you don't want to eat out. In addition, you can meet other travelers in hostels, from whom you can get tips on what to do in the city and have company. However, if you want to save money and get to know the locals, you should look for a place to stay for the night through Couchsurfing.
What else can be done along the way?
Personally, I always go to a new place on a free walking tour, where payment works on a drop-in basis. At the end of the round, you can pay what you want. The tours are about a couple of hours long and are great for getting to know a new city. The guides are always really nice and do their job with passion. In Budapest, you should definitely visit a spa to relax. Gellert is one of the finest and most popular, and is definitely worth a visit. In the Rudas spa, on the other hand, there is an opportunity to soak in the hot water even at night. The entrance ticket is around 20 euros and for this price you can spend a whole day in the spa. You should try the Hungarian food Goulash and you can also find it in a vegan version at, for example, the Napfényes restaurant, which I definitely recommend!
Since I was on the move during the Christmas season, there were great opportunities to visit the Christmas markets and drink mulled wine. Especially in Vienna, the Christmas markets are big and full of things to go around. Vienna also has a huge cultural offer, the hardest part is choosing which exhibition or concert you would like to go to. On the Prague stage, I decided to take the trip much more relaxed. The first evening, I took a leisurely walk in the city and rested in the hostel. In Prague, you should definitely go to the flea markets, because there are a lot of them and they are really good!
I only had a few hours in Copenhagen, but I had time to visit Huset-KBH in the center. The cultural center has e.g. cafes, concerts and a cinema. You can visit the place for a coffee before heading to the next place. Next, I headed from Copenhagen to Stockholm. The trip had mostly gone very smoothly. Only in Copenhagen was there a problem with the train connection and I had to take an earlier train to get to Stockholm. I arrived there in the evening and the next day the journey continued immediately by Ferry back to Helsinki.


The cost of the trip
The final amount of the travel expenses for the stages between the seven cities came to a total of approximately 290 euros. The most expensive part of this amount was the ship trip from Stockholm to Helsinki, which cost a total of 80 euros with a cabin. On the other hand, if you travel via the Baltics, the ferry trip from Tallinn to Helsinki usually costs less than 20 euros and takes only a couple of hours.
The total cost of accommodation for the trip came to about 250 euro. The sum consists of a total of two weeks' accommodation, of which I spent two nights in a more expensive hotel in Belgrade, which increased the total amount. I didn't count food expenses much during the trip. You can eat very inexpensively by preparing your own food in the hostel's shared kitchen. If you want to eat out, it is very cheap to eat in a restaurant in, for example, Belgrade, Budapest and Prague. You can easily find portions for less than 10 euros. You can keep your daily food budget under 20 euros if you cook some of your food yourself and eat out, for example, once a day. Vienna, Berlin, Copenhagen and Stockholm, on the other hand, are already significantly more expensive cities and the price level is pretty much the same as Finland.


Safety
In my opinion, there is no need to worry about safety during the trip. I have mostly traveled alone and according to my experience, traveling in Europe is very safe. You should find out about the destination in advance, and if you wish, you can check the security situation by reading the travel bulletins of the Ministry of Foreign Affairs. You can do well with common sense and basic measures. In the evenings, you can avoid remote and dark routes, and if you go out to spend the evening with, say, a group you met in a hostel, you should return to the hostel together with someone you know from the group. Sometimes there can be pickpockets in the most popular tourist destinations and areas with a lot of people. You should take care of your belongings. I personally keep, for example, my wallet and phone in my belt bag or jacket pocket.
General tips for the trip
If you are planning a trip by land, you must also plan the amount of luggage accurately. I was traveling with a large suitcase, which made it difficult to drag along and sometimes slowed down the journey. On the other hand, this didn't bother me too much, because I had decided to make the journey without haste and adapting to the conditions.
Remember that you should not be afraid of problems. They will most likely come at some point along the way. Something can get lost on the way, the hotel can't find your reservation, or the battery runs out in a critical place. However, people are almost always ready to help and situations do find a solution.
Travel documents should be scanned and stored in the cloud or printed. I always have a copy of my passport, European medical card and other important documents with me.
It is also important to look carefully if the travel ticket needs to be printed. In the Balkans, I was able to exchange my mobile ticket for a paper one at the information desk, so there is no need to worry about printing. At the same time, you can ask which platform the train or bus leaves from. At all stations, schedules cannot be checked on the screens.
Please note that some bus stations ask for payment before entering the platform. That's why it's worth carrying at least a small amount of local money.
I always carry a few things that are useful when traveling:
Lunch. Vegetarians and vegans should bring their own snacks, because the stops do not always offer vegetarian options. Fortunately, European cities usually offer numerous good vegetarian restaurant options. You can look for vegetarian restaurants for example in the HappyCow application.
Power bank. On long bus or train journeys, you can't always charge your phone and it's miserable if the battery runs out when you should know how to navigate to the right hostel.
Paper and hand towels. Toilets at gas stations and buses almost always do not have toilet paper, let alone proper hand washing facilities. That's why it's a good idea to keep a small amount of paper with you.
Book/magazine, etc. Carry something to do that does not require an internet connection, as it may not work while traveling.
In some places, you may have to buy drinking water in a store. In many hostels, you can get drinkable water from the tap, and I filled my own bottle during my stay, and especially for the next train or bus trip.
You should definitely get to know the locals and other travelers. I have made wonderful new friends and spent really nice evenings together with other travelers.


To Summarize, the trip was really wonderful. Seeing new places is refreshing, coming home felt wonderful and rewarding after a long journey. Although I have traveled in Europe without flying before, this was my first long trip by land. You learn more from each trip and making the next trip only becomes easier. I think traveling by road is much more interesting and rewarding than flying. Emissions from air travel are also significantly more burdensome on the environment than traveling by train or bus.