City of Espoo Youth Services
Description of host organization
Espoo's Youth Services provide valuable services to young people, particularly those aged 13-17, but also to those over 16. We operate a range of programs and initiatives aimed at helping young people to succeed.
One of the core offerings of the Youth Services is 19 local youth clubs, which provide opportunities for young people to try new things, meet new people, and challenge themselves. The clubs are run in cooperation with young people themselves, with the principles of youth participation and inclusion.
In addition to the youth clubs, the Youth Services also offer outreach work aimed at meeting young people where they hang out. The outreach work is available to everyone under 29 and offers support in planning for the future, information about studying and applying for a job, and help with health issues. 
Throughout all of our programs and initiatives, we place a strong emphasis on listening to young people and encouraging their participation. Our values of being youth-oriented, innovative, and fair are reflected in everything we do. Ultimately, our goal is to enable every young person in Espoo to influence topics that are important to them.
⁠⁠⁠⁠⁠⁠⁠This work is made possible thanks to the dedication of our educated professionals, who work closely with young people and their families. Variety is seen as a strength, and Youth Services strive to give every young person the chance to be themselves and have fun with their peers.
Volunteers' tasks
We are looking for 5 long-term volunteers for the period of 1st of October 2023 until 30th of June 2024 to participate in the planning, implementation, and evaluation of youth work together with our paid staff. The tasks include, for example, engaging in discussions with young people, planning and organizing various events, and running clubs or courses. It is important that volunteers can utilize their existing skills but also learn new tasks through their work. The specific tasks to be carried out are agreed upon locally between our staff and the volunteer. In every task and activity, our employee will be accompanying the volunteer, with the task to support the volunteer. The volunteer's personal skills and interests somewhat determine the type of tasks they perform with us. There are considerable possibilities to tailor the content of the tasks to meet the needs of the volunteer.
The work primarily takes place during the leisure time of local youth (mostly afternoons and evenings), and the main task is to interact with young people. The most important aspect of being a volunteer is having a positive and open attitude towards learning new things. Youth services also organize events such as lan parties and concerts. Volunteers can participate in planning and implementing these events. In these eventa, they can be involved in anything related to organizing the event. Our goal is to offer varied and rewarding tasks.
Accommodation and meals
You will be accommodated in a shared apartment in Espoo, which is located in the capital region of Finland close to Helsinki. You will receive food money to buy groceries and cook food for yourself.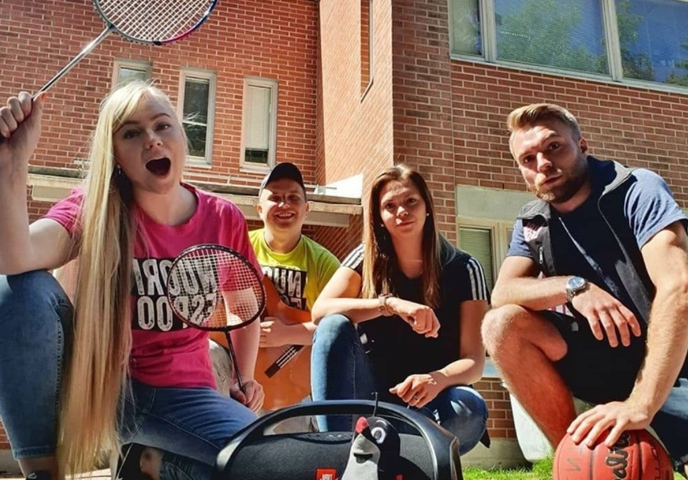 Volunteer's profile
All we require is an open attitude and flexibility. Working with young people provides you with a constantly changing environment where no day is alike. We will take into account your personal skills and learning goals and do our best to tailor your tasks to meet your needs. We are looking for volunteers with at least basic communication skills in English.
We wish applicants from diverse backgrounds, including representatives of different genders, as well as persons belonging to linguistic, cultural and other minorities.