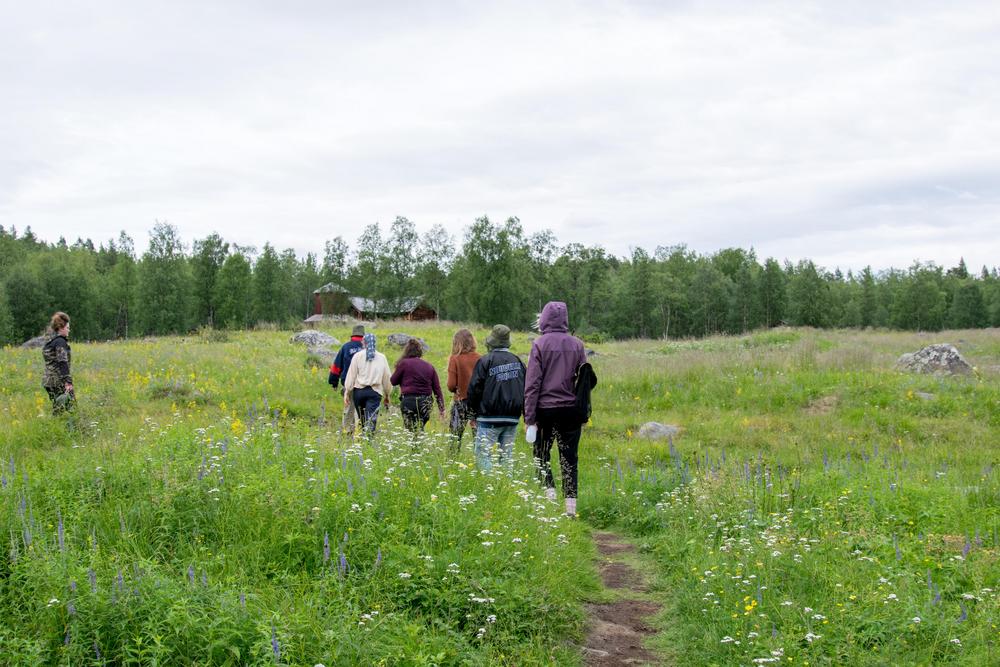 The European Solidarity Corps volunteer teams are meant for all 18-30 year old living in European Union countries. The teams offer meaningful voluntary work activities for  two weeks or more. Please read the project descriptions below and join the fun! The volunteers will get board and lodging, small pocket money, travel reimbursement and certificate of participation. And an excellent opportunity to explore Finland, meet new people and get unique experiences. 
The Covid-19 regulations will be carefully followed in order to guarantee the safety of the participants and the communities. The participants will need to present a proof that a person has either been vaccinated against Covid-19 or has recovered from the virus.
Please apply if you are ready for widen your horizons!  You can apply for more than one team if you wish.
1. Embrace the darkness, Nurmes, 4.-24.10.21 (project code: ALLI05ESC )
Partner: This European Solidarity Corps volunteering team is jointly organised by Allianssi Youth Exchanges and Hyvarila Youth and Holiday Centre.  It is supported by the  European Solidarity Corps programme and is  open for 18-30 year old citizens and residents of Finland and other EU countries. Hyvärilä Youth and Holiday Centre is a member of the Finnish youth centres network, working under the auspices of the Finnish Ministry of Education and Culture.
Work: Kekri is an autumn festival of harvest, transition from summer and light to winter and darkness in eastern Finland. This is a time for cooking traditional and local food, bringing community and generations together, remembering ancestors and celebrating light.  Volunteers explore the Finnish culture and nature, sustainability,  creativity and work with local community of different age groups: from children to elderly people.
The activities vary from learning about traditional harvest season foods and cooking and building a nature path in the forest to creativity and video-making activities, upcycling and crafts and meeting local community members and organizing activities with them. Volunteers will work 30-35 hours per week with two days off. The project suits well to people who have interest in some of the following areas: traditional culture, arts and crafts, nature and outdoors activities, cooking and sustainability.
Accomodation: 20 volunteers stay in Hyvärilä youth centre on the shore of lake Pielinen, surrounded by forest and water. Accommodation is in a youth hostel, 1-2 persons per room with shared bathrooms and showers, and a common room. Meals are cooked by volunteers for the whole group in shifts of 4 volunteers.  Prepare to cook food for your teammates at least three times! Volunteers are responsible for cleaning their own rooms.
Location and leisure time: We welcome warmly volunteers who enjoy staying in a small and isolated rural community surrounded by nature and serenity. Openness to meet the local community and people with different backgrounds is essential to get a comprehensive image of the rural North Karelian community.  
The group will be hosted in Hyvärilä youth centre (www.hyvarila.com/english/)  is 3,5 km away from Nurmes town where the nearest train and bus station are. Closest big towns are Joensuu and Kuopio, both 2 hours away by bus or train. It takes 7 hours to get to Nurmes from Helsinki with 2 changes of train, but it is totally worth it. 
Requirements: This project is supported by the EU European Solidarity Corps programme and is  open for 18-30 year old citizens and residents of EU countries. Participation is free of charge, as well as board and lodging. Volunteers need to stay the full duration of the project in order to get their pocket money (5 euros per day) and travel cost reimbursed (20-360 euros depending on the distance). Due to covid-19 pandemic all the volunteers need to have certificates of their full series of approved covid-19 vaccinations or a certificate of earlier covid-19 infection less than 6 months ago. The weather can be cold in late autumn so the volunteers need to  bring warm clothes and also proper gear for outdoors, hiking boots, gloves and hat as well as a rain coat.
Unable to show YouTube video. Please check marketing cookie consent and your browser's privacy settings.