Ajankohtaisia EU-tuettuja vapaaehtoistiimejä
22.3.2023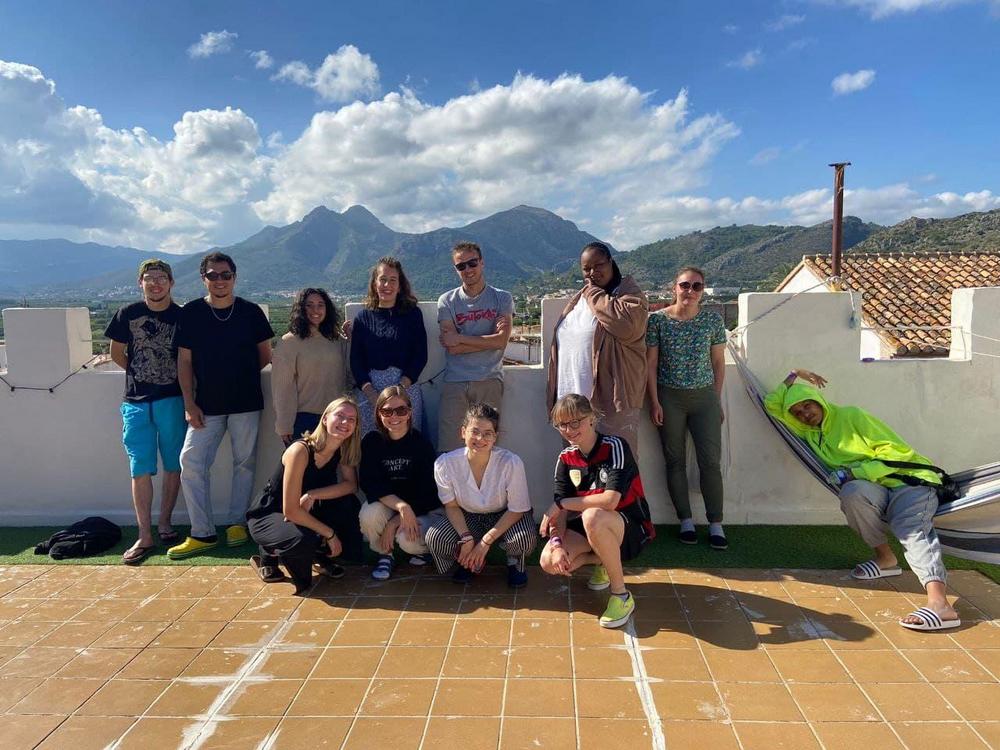 Haluaisitko tehdä vapaaehtoistyötä Suomessa tai muualla Euroopassa? 
Järjestämme sekä  Suomessa että muissa maissa Euroopan solidaarisuusjoukkojen vapaaehtoistiimejä, joihin haemme  osallistujia. Vapaaehtoistiimissä tehdään käytännön vapaaehtoistyötä ja paljon muuta yhdessä noin kymmenen muun vapaaehtoisen kanssa. Osallistuminen onkin hyvä tapa tutustua uusiin ihmisiin ja paikkoihin, oppia uusia taitoja sekä tietysti tehdä työtä hyvän asian puolesta! 
Kuka voi hakea? Vapaaehtoistiimit on tarkoitettu 18-30 -vuotiaille. Rohkaisemme kaikenlaisista taustoista tulevia, Suomessa asuvia nuoria aikuisia hakemaan mukaan! Tiimeihin voi osallistua  suomalaisia ja muita Suomessa jo asuvia nuoria aikuisia sekä myös myös muista EU-maista tulevia vapaaehtoisia. Osallistujilla tulee olla täysi  koronarokotusssarja tai todistus sairastetusta virustaudista.
Mitä maksaa? Vapaaehtoistiimit ovat Euroopan unionin tukemia, joten osallistujien matkakulut korvataan, ohjelma, majoitus ja ruokailut järjestetään ja vapaaehtoiset saavat pientä taskurahaa. Osallistujalle itselleen ei siis tule  kuluja osallistumisesta. 
Tulevia vapaaehtoistiimejä
France, "Another Brick in the Wall", 07.05-22.05.2023
Project code:  SJ/ESC01
Vapaaehtoiset pääsevät kunnostamaan paikallisen kylän kirkkoa. Työtehtävät ovat esim. alkuperäisen tiilipinnan esiintuomista ja puuttuvien tiilien korvaamista uusilla.
France, "A Medieval Village", 10.06 - 25.06.2023
Project code: SJ/ESC09
Vapaaehtoiset avustavat keskiaikaisen kylän kunnostamisessa. Tehtäviin kuuluu mm. portaiden korjausta, puutarhanhoitoa ja kiviaitojen kunnostamista paikallisten taitajien opastamana. 
Lue lisää oheisesta infokirjeestä ja hae mukaan E-vet hakukoneen kautta, ohjeet löydät täältä.
France, "Children like no other", 23.06-07.07.2023
Project code: CONCF-6305-ESC 
Work: the volunteers will be working together and for the children and young people with disabilities, building for them health and sport units to create a sport course in the yard of the centre.
France, "Adventure Playground", 21.06-05.07.23
Project code: CONCF-8004A-ESC
Work: Volunteers will be working hand in hand with local youth and inhabitants to create playgrounds in the neighbourhood made of shacks and games! Perfect for the ones who love to build things up with DIY techniques! 
France, "Help the turtles". 21.06-05.07.23
Project code:CONCF-8007-ESC
Work: The European turtles of the local zoo are awaiting the volunteers to come and help create new spaces for them! The turtles will then be able to reproduce and be eventually reintroduced in their natural habitats! 
France, "Two weeks to create a bike repair!", 12-26.05.23 
Project code: ANEC01ESC 
Work: the volunteers will create a bicycle repair workshop in an old train station of the North East of France. On the program: Discovery and visit of other Bike Centers; Construction of furniture (shelves, workbenches...), painting, landscaping (compost, revegetation, sign...) and animation in Jarville to make known the new Bike Center. 
Apply through E-vet to volunteer teams in France, instructions here. | Hae mukaan Ranskan vapaaehtoistiimeihin E-vet hakukoneen kautta, ohjeet täällä.
France, "The Eco Village 1", 29.06-12.07.23 
Project code: SJ/ESC13
Work: During this workcamp, you will take part in an important step of the village development: the construction of a new yurt and the Vir'volt Festival! 

France, "Let's renovate the former Holiday Camp 1", 05.07-20.07.23 
Project code: SJ/ESC14
Work: You will be involved with the team in the development of the exterior and in part of the restoration of the former holiday camp. In particular, you will be involved in clearing the paths and passages around the building (cleaning, clearing brush and cutting). You will also carry out minor masonry work. You will work 25 hours per week.
France, "Landscape in Vauniéres 2" 10.07-31.07.23 
Project code: SJ/ESC25
Work: This summer's work will focus on the development of a landscape and the maintenance and restoration of a hiking trail.


France, "Tracing the steps of the Duke of Lesdiguieres" 10.07-31.07.23 
Project code: SJ/ESC26
Work: With the help of the technical supervisor, we will work with old techniques and materials (such as lime). At certain times, we will work at height, using scaffolding. We will work around 30 hours per week.
France, "Under the paving stones" 15.07- 05.08.23 
Project code: SJ/ESC29
Work: You will renovate the paving (floor) of the washhouse which is located next to this square, around 6 hours per day. You will learn techniques of traditional masonry (wall-building). You will evolve as a team with the help of two leaders and share collective life tasks such as cooking, cleaning, after work activities, etc.


France, "Bring your stone" 16.07-05.08.23
Project code: SJ/ESC31
Work: In line with previous years, this project will consist of rehabilitating the surrounding walls of the estate by setting the scaffolding, preparing the site: selection of stones and preparation of formwork, by stoning masonry, roofing using small Bourbonnaise tiles and by making a traditional finishing plaster.
France, "At the hanging gardens" 29.07-19.08.23
Project code: SJ/ESC43 
Work: The community owns on its grounds a beautiful space with hanging gardens. With the aim of developing permaculture projects, there are some facilities that need to be put in place to ensure public safety. This is why you will renovate a wall of about 10 meters in length for around 6 hours per day. You will learn the techniques of traditional masonry and dry-stone-wall building. You will evolve as a team with the support of two leaders, and share collective life tasks such as cooking, cleaning, after work activities, etc.
France, "Build an international and green village" 04.08-18.08.23 
Project code: SJ/ESC47
Work: During this workcamp, you will be in various work projects on-site as well as in the local town alongside local and international volunteers. Two new yurts have been installed on-site to be able to host more people! You will help in the installation of the yurts, by making furniture! (simple woodworking). In La Ferté-Alais, the former swimming pool is becoming a dedicated youth space. You will help in the refurbishment of the interior walls (painting and simple masonry).
France, "In my garden" 06.08-26.08.23 
Project code: SJ/ESC51
Work: Like the whole site, the garden and the vegetable garden are constantly evolving. On the program this year we want to protect and delimit: The garden and the vegetable garden must be protected from external intrusions (fauna, flora, bad weather). You will build barriers and low walls to delimit the space using different materials. Le Créneau wishes to develop its natural spaces and integrate them into the daily life of its inhabitants: you will repair the garden hut, and make it a place of storage but also of gathering and discussion for school visits, by arranging a space in reused materials: pallets, etc.
France, "The real story behind Arzeliers Castle" 16.09-01.10.23 
Project code: SJ/ESC63
Work: The aim of the work is to make a "peasant plaster" mortar and to restore the walls of a building in order to consolidate them and prevent them from deteriorating further. A specialised technical supervisor will be at your side to give you advice and techniques. You will work approximately 30 hours per week.
France, "An ecological word" 23.10-05.11.23 
Project code: SJ/ESC66
Work: During this workcamp, you will take part in the building of ecological furniture and items that will help biodiversity of the site (insect hostels, bird houses...) Together with the team leaders, you will imagine and build up animation and games about nature and environment, in direction of the children of the nearby leisure centre. Games, debates, quizz, come to teach the young generation to understand and act on their environment!
Italy "Cursa di Ciclopi" 18.04-03.05.2023



 It's a sport event, a 500 km race, involving international runners across Sicily (50 municipalities, 8 villages, 4 regional parks, etc). The event is a unique opportunity to give visibility and promote the revitalisation of internal areas of the region with a clear approach toward the preservation of the environment and the natural resources and the promotion of local economy.
https://cursadiciclopi.com/en/the-race/
Czech Republic "ESC assist the elderly in Prague " 06.08.-20.08.2023
Volunteer will work with the elderly and participate in occupational therapy. You will help to organise leisure time activities, garden parties, go for walks with the clients, assist the nurses with daily tasks, break the routine in the centre. Volunteer will be trained on how to work with clients and occupational safety and an ethical approach to social services.
Slovakia "Obisovce Castle"  19/07/23 - 03/08/23
Volunteers will be helping with revitalising the old ruins of the small Obisovce Castle in Slovak Carpathians. The Obisovce Castle was the first completely uncovered castle in Slovakia. The volunteers will be involved in renovation work, cleaning the area, help with masonry work using the traditional techniques, and transport of the material (like sand, rocks, and water.) The volunteers will learn about the history of the castles in Eastern Slovakia.
Austria "E Ktschn im Park " 01/07/23 - 22/07/23
 Volunteer will mostly work with the Vienna gardeners in the green areas of this famous public park called Augarten in the city centre. You will as well do some cleaning, renovation and some painting work of the facilities, walls and benches. You will work five days a week, six hours with a lunch break of an hour, from 9:00-15:00. At the end of the international camp, we will organise a farewell barbecue/get together.
Czech Republic " ESC center for all " 05.07 - 19.07.2023
The workcamp aims to bring together Czech and international volunteers, people with or without disabilities, kids, youth or adults - just all This workcamp is primarily for people with autism to whom you will assist. Volunteers will cooperate with Czech assistants and help their fellow campers with daily tasks such as dressing, eating, personal hygiene and participation in the camp program. During the camp (9.-15.7.2023), volunteers might work longer hours, nevertheless, there will be enough time for rest and trips before and after the camp.Study part: Volunteers will learn about different types of disabilities. Through their trained campleaders, they will get to know how to assist the people in their daily life. Volunteers will have a chance to learn some basic Czech phrases ( which will be helpful during the camp.
Belgium "CBBS Garden" 01/07/23 - 15/07/23

With the help of a professional the volunteers will build a dry stone wall in order to stabilize the embankment between the garden and the wood shed built in the previous workcamp by international volunteers. This project is a step forward in our idea to create a green space for young people for learning about gardening, permaculture, biodiversity, for meeting, for having outdoor activities
"Teatri Riflessi Festival"  03/07/2023-18/07/2023
Volunteers will be asked to help support the organization and unfolding of the festival. Members of the TR8WorkCamp will work around 7 hours a day during the first week (from 4 to 8 July) to get to know the event and realize the setting-up of the spaces for the activities (handmade recycled props, posters, signage…). The second week will require up to 8 hours of work a day, from 10 to 15 July, to allow the setting up of the area and the realization of some activities linked with the event (roundtables, laboratories, exhibitions). In this second week, some of the volunteers will have the chance of working in the backstage and stage setting-up, some others in the realization of communication materials (photos, social media contents, video, interviews…) related to the Festival as well as the TR8WorkCamp experience
Italy  "Lion Project  "16/07/2023-31/07/2023
WORK : Volunteers will work 5/6 hours per day, weekend will be free. The work will be mostly in the morning because in the afternoon during the summer it is very hot. Volunteers will work on differents tasks:
 1. Library: Monteleone's small library is in need of some minor renovations! With putty and sandpaper we will go about removing imperfections from the walls to prepare it for the most fun part, painting the walls and ceiling!
2. Amphitheater: Monteleone is home to a priceless historical artifact, the ruins of a large amphitheater from Roman times. Inexorably, nature is reclaiming its space, and the amphitheater, surrounded by greenery, needs some maintenance through the removal of ivy, lianas and other shrubs. Together we will then try to enhance it by making it usable without danger. 
3. Garden: The activity is to redevelop it by removing old trash, cutting the grass, fixing some small walls, and cleaning a small adjacent room on which a mural will be made
Italy "Policaffe"  17/07/2023-01/08/2023
The volunteers will collaborate in the general requalification of the building and in the creation of a room dedicated to host artists. This will consist of easy manual work, like wall painting, woodwork and other easy tasks. Alongside with the manual work, volunteers will be encouraged to express their artistic side and share it in the Policaffè. Volunteers are going to work about 5 hrs/day for 5 days/week, and they will have two free days per week, in which they will have the opportunity to discover the surroundings and meet local people.
Italy "Cilento Fable Park" 26/07/2023-10/08/2023
The volunteers' group will be involved in the following activities. 
1. Manual work: mow grass, repair and secure the fence, wood and stone steps, rid the path of trees and greenery obstructing the walk, fix dry small stone walls and pave paths with local natural stones, set signage.
 2. Agricultural work like hoeing open fields, weeding, watering and planting.
 3. Forest protection work like clean undergrowth and forest floor, prune branches and plants.
 4. Volunteers will also participate at the popular celebration "Cuntaria Festival" at the beginning of august (a festival dedicated to the narration of Cilento fairy tales).
Italy, "Inclusive Summer"  25/08/2023-09/09/2023
Volunteers will be involved in activities for about 6 hours a day, and will have two days off. Social Garden - House maintenance : volunteers will be involved in the house maintenance and in the creation of an internal murales. The volunteer will set up a social garden with the creation of decorative ceramic elements and furnishing accessories for the green space. Social aspect: volunteers will take care of daily activities, of the services, in collaboration and contact with the house's beneficiaries. They will work on the creation of an alternative communication laboratory that overcomes the physical and cultural language barriers through non verbal communication.
"East side Urban Regeneration" 27/08/2023-11/09/2023
Volunteers will work max. 6 hours a day for 5 days a week (weekends off). The camp of volunteer work includes the following actions: 
1. Cleaning actions to "rid" the waterfront areas of San Giovanni a Teduccio of trash; 
2. Restoration of green areas of the waterfront (removing brambles, cleaning the area, cutting grass) to make them welcoming and usable; 
3. Installation of informative signage, with messages casting positive messages about the environment and about how to respect green areas. The messages will be translated into multiple languages. 
Staff of the host organizations will organize the days so that participants can also participate in cross-cultural activities to get to know each other and learn about the history and traditions of the community and learn about the organizations operating in the area and their projects.
Lisätietoa Euroopan solidaarisuusjoukot -ohjelmasta löydät tästä linkistä. ⁠⁠⁠⁠⁠⁠⁠
Huom! ESC-vapaaehtoistiimit ovat kaikille 18-30 -vuotiaille avoimia ja niihin voivat osallistua myös jo EVS- tai ESC-ohjelmassa olleet. Voit myös osallistua useampaan vapaaehtoistiimiin, niin kotimaassa kuin ulkomaillakin. 
Jos sinulla on kysyttävää hakulomakkeen täyttämiseen tai muuhun liittyen, olethan meihin yhteydessä. Saat meidät kiinni sähköpostitse (vaihto@alli.fi) tai puhelimitse  (myös WA numerosta 044 416 5209. 
YouTube-videon näyttäminen ei onnistunut. Tarkista markkinointievästeiden hyväksyminen ja selaimen yksityisyysasetukset.